Our goal is to maximize children's opportunities.
We want our students to be glad they came to us, when they look back in 10 years' time. Will you help us reach our goal?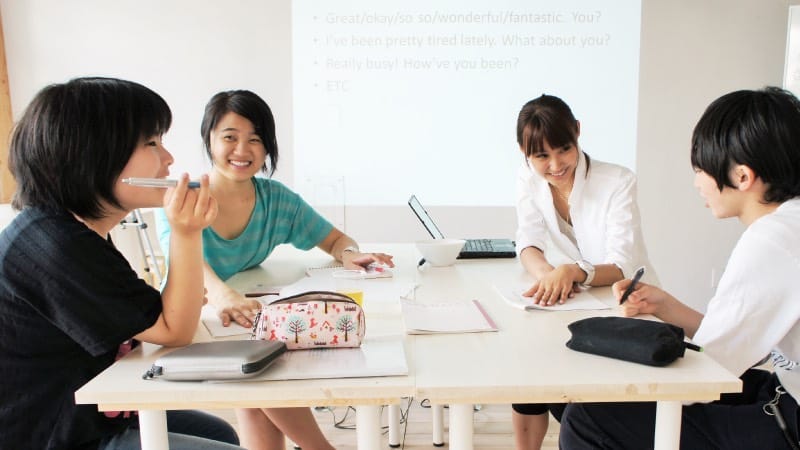 We want to create future leaders
Here in Japan, English teaching is a market of more than 800 billion yen. Many adults desire to learn English, but are not successful. The main root of this problem lies in the education system, which hasn't changed for the past 30 years. English education in schools revolves entirely on "teaching to the test", focusing on grammar and English-to-Japanese translation exercises, which are easy to grade and only prepare children for University entrance exams.
However, companies need someone who can actually use English in real life, not just someone who can score high on standardized tests.
We should not repeat the same mistake we made in the past with the young generations. This is why we strive to expand the children's opportunities by providing the best English learning solution.
Who
Everest English school is established in 2015, located in Myougadani in Marunouchi-line. Currently, we have 15 members in our organization. We have several great teachers, but we need more because of the expansion.
Who are your students? 10 to 20-year-old students. We have almost 50 students now.
Why
We would like to fill in the educational gap between actual society and the current educational system (elementary to university). When our students graduate school, they will be able to have speaking/writing skills to communicate anywhere in the world by using the universal language, English.
How
Our teaching method is not a grammar-based approach, but more in a practical way. We are not just going to teach English to pass exams but for the betterment of our students' lives. We spend 2.5 hours on each lesson for the students. One teacher for three students. All English environment. We are also using our original materials. We have home training (Diary, Skype, and Grammar book) Once a year; we also have a presentation day.
Job Info
Job TypeLanguage teacherWork TypePartTimeLocationBunkyo-kuWage1,500-3,500 yen/h
Requirement
JapaneseNoneEnglishNative
Minimum 2 years English teaching experience to children required
Must currently reside in Japan
Must have a proper visa to work in Japan
General American accent preferred
Applicants who can commit long-term prioritized
Description
Right now, we have 10 English teachers. Because we are expanding our business, we need more teachers.
1)Work days (One-hour or Two-hour Class):
The class usually takes place from
Mon-Friday 15:30-17:30, 16:30-18:30, 18:00-21:00
Sat: 12:00-15:00, 15:00 to 18:00 and 18:00-21:00
It is either 1-hour or 2-hour lesson. We have about 80 students at this moment.
2)Teaching materials:
We have all the materials for you. I would like teachers to prepare for the lesson before the lesson starts.
3)Class:
Group lesson (up to 3 students)
Private lesson
Location:
Hori building 2F 4-5-9 Kohinata Bunkyo-ku Tokyo 112-0006
Jiyuugaoka (New branch)
Nearest station:
Myougadani metro station (2 min. walk)
We are looking forward to meeting you!
Employment and Training process
Here at Everest we believe the interaction between students and teachers is very important. A skilled and passionate teacher can motivate students to learn English efficiently. Therefore, we are looking for passionate and creative teachers.
1
Application
Please apply using the form below.
2
Interview
We want to see your passion for teaching English
3
Video Training
We provide you with videos of our teaching methods.
4
Class observation
You can watch how other teachers hold their class.
5
Internal trial lesson
We are going to check your teaching skill by a 30 min. internal trial lesson.
6
Trial lesson 1
We are going to have a 2 hours trial lesson in which we check how you can lead students, get their full attention, and let them speak out.
7
Trial lesson 2
2nd trial to see how you improved from last time.
8
Start lesson
Let's start teaching our students together!